Bishop of Tours, France. A senator at Tours, he was initially married, supposedly to a most unpleasant wife. Named bishop of the city in 488, he was forced to leave the see in 496 by the Arian … continue reading
More Saints of the Day
---
---
Tomorrow's Saint

Fillan, son of Feriach and St. Kentigerna, was also known as Foelan. He became a monk in his youth and accompanied his mother from Ireland to Scotland where he lived as a hermit near St. Andrew's … continue reading
---
---
More Saints
---
---
---
Saint Feast Days by Month
---
---
Browse Saints by Category
---
5.

Click Here for St. Valentine Prayer's
Saint Valentine, officially known as Saint Valentine of Rome, is a third-century Roman saint widely celebrated on February 14 and commonly associated … continue reading | shop
6.

Saint Anthony was born Fernando Martins in Lisbon, Portugal. He was born into a wealthy family and by the age of fifteen asked to be sent to the Abbey of Santa Cruz in Coimbra, the then … continue reading | shop
7.

Everything we know about the husband of Mary and the foster father of Jesus comes from Scripture and that has seemed too little for those who made up legends about him.
We know he was a … continue reading | shop
---
---
---

Dymphna was born in Ireland sometime in the seventh century to a pagan father and devout Christian mother. When she was fourteen, she consecrated herself to Christ and took a vow of chastity. Soon afterward, her mother died and her father – who had loved his wife … continue reading
---
---
---
---

Saint Michael the Archangel isn't a saint, but rather he is an angel, and the leader of all angels and of the army of God. This is what the title "Archangel" means, that he is above all the others in rank.
St. Michael has four main responsibilities or offices, as we … continue reading
---

St. Gabriel is an angel who serves as a messenger for God to certain people. He is one of the three archangels. Gabriel is mentioned in both the Old and the New Testaments of the Bible. First, in the Old Testament, Gabriel appears to the prophet Daniel to explain his … continue reading
---
---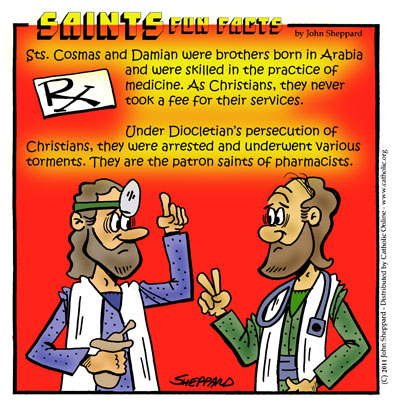 Sts. Cosmas and Damian were brothers, born in Arabia, who had become eminent for their skill in the science of medicine. Being Christians, they were filled with the spirit of charity and never took money for their services. At Egaea in Cilicia, where they lived, they … continue reading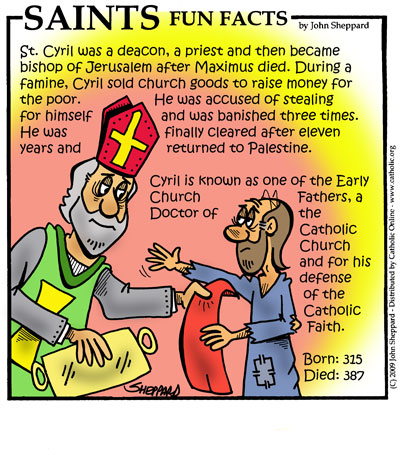 "Make your fold with the sheep; flee from the wolves: depart not from the Church," Cyril admonished catechumens surrounded by heresy. These were prophetic words for Cyril was to be hounded by enemies and heretics for most of his life, and although they could exile him … continue reading
---
---
---