Abbot and founder. Born at Garissus, Cappadocia (modern Turkey), in 423, he undertook a pilgrimage to Jerusalem, and after meeting with the famed St. Simeon Stylites, he entered a monastery. Later, … continue reading
More Saints of the Day
---
---
Tomorrow's Saint

Marguerite had survived many threats in the twenty-six years she had been in wilderness of Canada. She had lived through Iroquois attacks, a fire that destroyed her small village, plagues on the … continue reading
---
---
More Saints
---
---
---
Saint Feast Days by Month
---
---
Browse Saints by Category
---
85.

Pope Saint Gregory I, also known as the Great, was the Pope of the Catholic Church between 590 and 604 AD.
Gregory was born around 540 in Rome. The exact date of his birth is unknown. … continue reading
86.

Empress mother of Constantine the Great. She was a native of Bithynia, who married the then Roman general Constantius I Chlorus about 270. Constantine was born soon after, and in 293, … continue reading
87.
St. Margaret of Scotland, or Margaret of Wessex, was an English princess born in Hungary to Princess Agatha of Hungary and English Prince Edward the Exile around 1045. Her siblings, … continue reading
---
---
---

Few details are known of St. Christina but she lived during the third century and was the daughter of a rich and powerful magistrate believed to have been named Urbain. He was deep in the practices of heathenism and had a number of golden idols, which he distributed … continue reading
---
---
---
---

Saint Michael the Archangel isn't a saint, but rather he is an angel, and the leader of all angels and of the army of God. This is what the title "Archangel" means, that he is above all the others in rank.
St. Michael has four main responsibilities or offices, as we … continue reading
---

St. Gabriel is an angel who serves as a messenger for God to certain people. He is one of the three archangels. Gabriel is mentioned in both the Old and the New Testaments of the Bible. First, in the Old Testament, Gabriel appears to the prophet Daniel to explain his … continue reading
---
---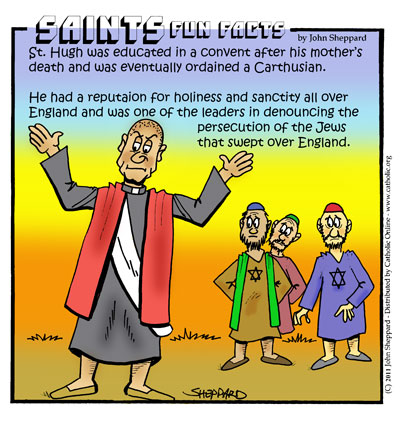 Hugh of Lincoln was the son of William, Lord of Avalon. He was born at Avalon Castle in Burgundy and was raised and educated at a convent at Villard-Benoit after his mother died when he was eight. He was professed at fifteen, ordained a deacon at nineteen, and was made … continue reading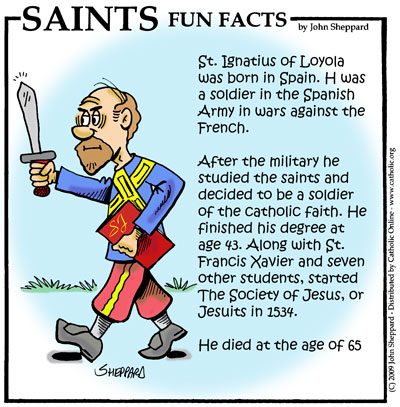 Born Inigo Lopez de Loyola in 1491, the man known as Ignatius of Loyola entered the world in Loiola, Spain. At the time, the name of the village was spelled "Loyola," hence the discrepancy. Inigo came of age in Azpeitia, in northern Spain. Loyola is a small village at … continue reading
---
---
---