"They didn't know who they were." This is how Hilary summed up the problem with the Arian heretics of the fourth century. Hilary, on the other hand, knew very well who he was — a child of a … continue reading
More Saints of the Day
---
---
Tomorrow's Saint

Felix was the son of Hermias, a Syrian who had been a Roman soldier. He was born on his father's estate at Nola near Naples, Italy. On the death of his father, Felix distributed his inheritance to … continue reading
---
---
More Saints
---
---
---
Saint Feast Days by Month
---
---
Browse Saints by Category
---
32.

St. Maximilian Kolbe was born as Raymund Kolbe on January 8, 1894, in the Kingdom of Poland, part of the Russian Empire. He was a Polish Conventual Franciscan friar and a martyr in the … continue reading | shop
33.

St. Gabriel is an angel who serves as a messenger for God to certain people. He is one of the three archangels. Gabriel is mentioned in both the Old and the New Testaments of the Bible. … continue reading | shop
34.

St. Raphael is one of the seven Archangels who stand before the throne of the Lord, and one of the only three mentioned by name in the Bible. He appears, by name, only in the Book of Tobit. … continue reading | shop
---
---
---

Lucy's history has been lost and all we really know for certain is that this brave woman who lived in Syracuse lost her life during the persecution of Christians in the early fourth century. Her veneration spread to Rome so that by the sixth century the whole Church … continue reading
---
---
---
---

Saint Michael the Archangel isn't a saint, but rather he is an angel, and the leader of all angels and of the army of God. This is what the title "Archangel" means, that he is above all the others in rank.
St. Michael has four main responsibilities or offices, as we … continue reading
---

St. Gabriel is an angel who serves as a messenger for God to certain people. He is one of the three archangels. Gabriel is mentioned in both the Old and the New Testaments of the Bible. First, in the Old Testament, Gabriel appears to the prophet Daniel to explain his … continue reading
---
---
St. Henry, son of Henry, Duke of Bavaria, and of Gisella, daughter of Conrad, King of Burgundy, was born in 972. He received an excellent education under the care of St. Wolfgang, Bishop of Ratisbon. In 995, St. Henry succeeded his father as Duke of Bavaria, and in … continue reading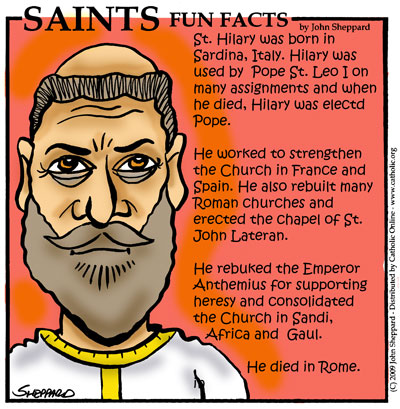 Pope from 461-468 and guardian of Church unity. He was born in Sardinia, Italy, and was a papal legate to the Robber Council of Ephesus in 449, barely escaping with his life from this affair. Hilary was used by Pope St. Leo I the Great on many assignments. When Leo … continue reading
---
---
---