Marguerite had survived many threats in the twenty-six years she had been in wilderness of Canada. She had lived through Iroquois attacks, a fire that destroyed her small village, plagues on the … continue reading
More Saints of the Day
---
---
Tomorrow's Saint

"They didn't know who they were." This is how Hilary summed up the problem with the Arian heretics of the fourth century. Hilary, on the other hand, knew very well who he was — a child of a … continue reading
---
---
More Saints
---
---
---
Saint Feast Days by Month
---
---
Browse Saints by Category
---
81.

"Jesus loved Martha and Mary and Lazarus." This unique statement in John's gospel tells us of the special relationship Jesus had with Martha, her sister, and her brother.
Apparently Jesus … continue reading | shop
82.

St. Anastasia, also known as Anastasia of Sirmium and Anastasia the Pharmakolytria or "Deliverer from Potions," is a Christian saint and martyr who suffered for Christ during the time of … continue reading
83.

St. Catherine of Bologna was an Italian nun and artist born as Catherine de' Vigri on September 8, 1413 in Bologna, Italy.
She was the member of an aristocratic family and the daughter of … continue reading
---
---
---

Saint Barbara, also known as the Great Martyr Barbara, was an early Christian Greek martyr born mid-third century in Heliopolis, Phoenicia.
Barbara was the daughter to a rich pagan named Dioscorus. After the death of Barbara's mother, Dioscorus dedicated his life to … continue reading
---
---
---
---

Saint Michael the Archangel isn't a saint, but rather he is an angel, and the leader of all angels and of the army of God. This is what the title "Archangel" means, that he is above all the others in rank.
St. Michael has four main responsibilities or offices, as we … continue reading
---

St. Gabriel is an angel who serves as a messenger for God to certain people. He is one of the three archangels. Gabriel is mentioned in both the Old and the New Testaments of the Bible. First, in the Old Testament, Gabriel appears to the prophet Daniel to explain his … continue reading
---
---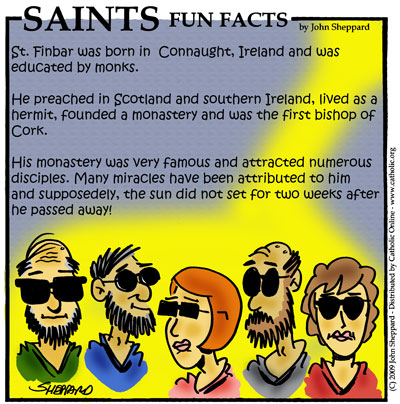 He was the son of an artisan and a lady of the Irish royal court. Born in Connaught, Ireland, and baptized Lochan, he was educated at Kilmacahil, Kilkenny, where the monks named him Fionnbharr (white head) because of his light hair; he is also known as Bairre and Barr. … continue reading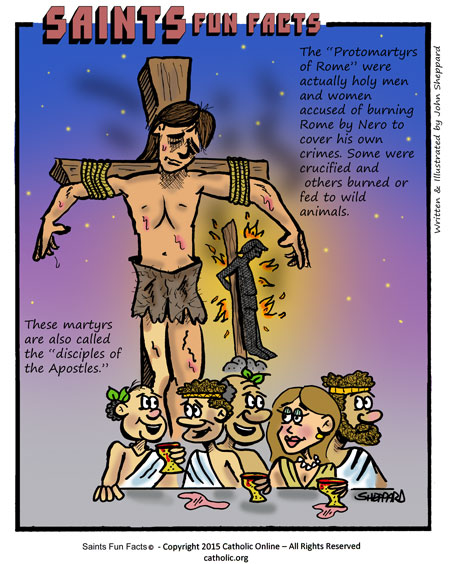 The holy men and women are also called the "Protomartyrs of Rome." They were accused of burning Rome by Nero , who burned Rome to cover his own crimes. Some martyrs were burned as living torches at evening banquets, some crucified, others were fed to wild animals. … continue reading
---
---
---