Saint of the Day for Tuesday, September 19th, 2017 – Saints & Angels
Zuwala

St. Januarius was born in Italy and was bishop of Benevento during the Emperor Diocletion persecution. Bishop Januarius went to visit two deacons and two laymen in prison. He was then also imprison … continue reading
More Saints of the Day
---
---
Tomorrow's Saint

Feastday: September 20 The evangelization of Korea began during the 17th century through a group of lay persons. A strong vital Christian community flourished there under lay leadership until … continue reading
---
---
More Saints
---
---
---
Saint Feast Days by Month
---
---
Browse Saints by Category
---
31.

What we know of St. Elizabeth comes from the Gospel, the book of Luke, in particular. In Luke, Elizabeth, a daughter of the line of Aaron, and the wife of Zacharias, was "righteous before … continue reading | shop
32.

St. Maximilian Kolbe was born as Raymund Kolbe on January 8, 1894, in the Kingdom of Poland, part of the Russian Empire. He was a Polish Conventual Franciscan friar and a martyr in the … continue reading | shop
33.

Thomas is believed to have been born in the castle of Roccasecca in the old county of the Kingdom of Sicily, which is now known as the Lazio region of Italy, in 1225. His parents were … continue reading | shop
---
---
---
---
---
---
---

Saint Michael the Archangel isn't a saint, but rather he is an angel, and the leader of all angels and of the army of God. This is what the title "Archangel" means, that he is above all the others in rank.
St. Michael has four main responsibilities or offices, as we … continue reading
---

St. Gabriel is an angel who serves as a messenger for God to certain people. He is one of the three archangels. Gabriel is mentioned in both the Old and the New Testaments of the Bible. First, in the Old Testament, Gabriel appears to the prophet Daniel to explain his … continue reading
---
---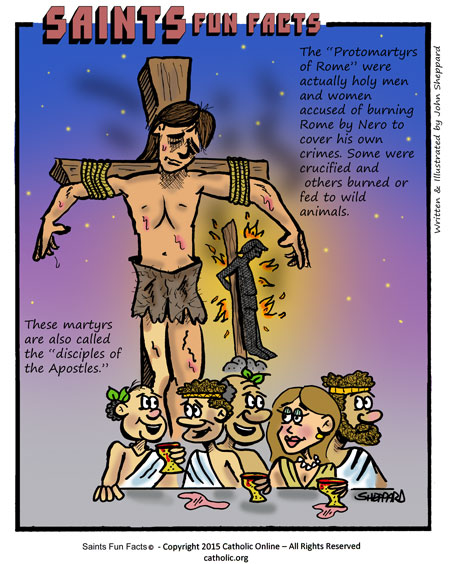 The holy men and women are also called the "Protomartyrs of Rome." They were accused of burning Rome by Nero , who burned Rome to cover his own crimes. Some martyrs were burned as living torches at evening banquets, some crucified, others were fed to wild animals. … continue reading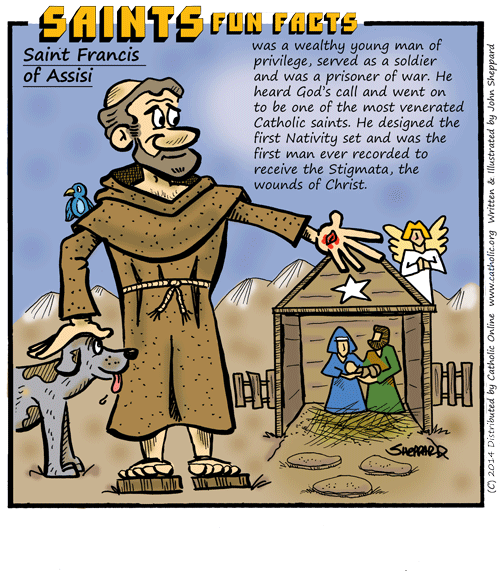 Founder of the Franciscan Order, born at Assisi in Umbria, in 1181.
In 1182, Pietro Bernardone returned from a trip to France to find out his wife had given birth to a son. Far from being excited or apologetic because he'd been gone, Pietro was furious because she'd … continue reading
---
---
---